A1A Miami DJ Trails has been helping the legendary dancer, Bboy Speedy Legs, produce, book djs & host the Miami Pro-Am Art Expo since 1998.
Last year's event featured famous DJs like, DJ Epps (Power 96, G-Unit, & Shadyville Djs), DJ Nick V, DJ Sama, DJ Jungle Boy, DJ HDj Tom La Rock, DJ Trails, Papito, Brimsone, Immortal, Solo 138, Magic, Stevie D, Jock D, Heron, Chillski, TMS and Juneski. We also had performances from old school artists like K-Solo and local funk band, FUSIK.
* I also designed the flyer for the event 🙂 See more of my work at: www.JonathanMFields.com
16 year Anniversary * Urban Arts & Dance since 1996
CELEBRITY DJs, JUDGES & PERFORMANCES BY:
Monie Love, Craig G from Juice Crew, Rahzel, Dj Scratch of EMPD, Sha Rock, K-Solo, MixMaster Ice and many more artists, DJs and events to be announced.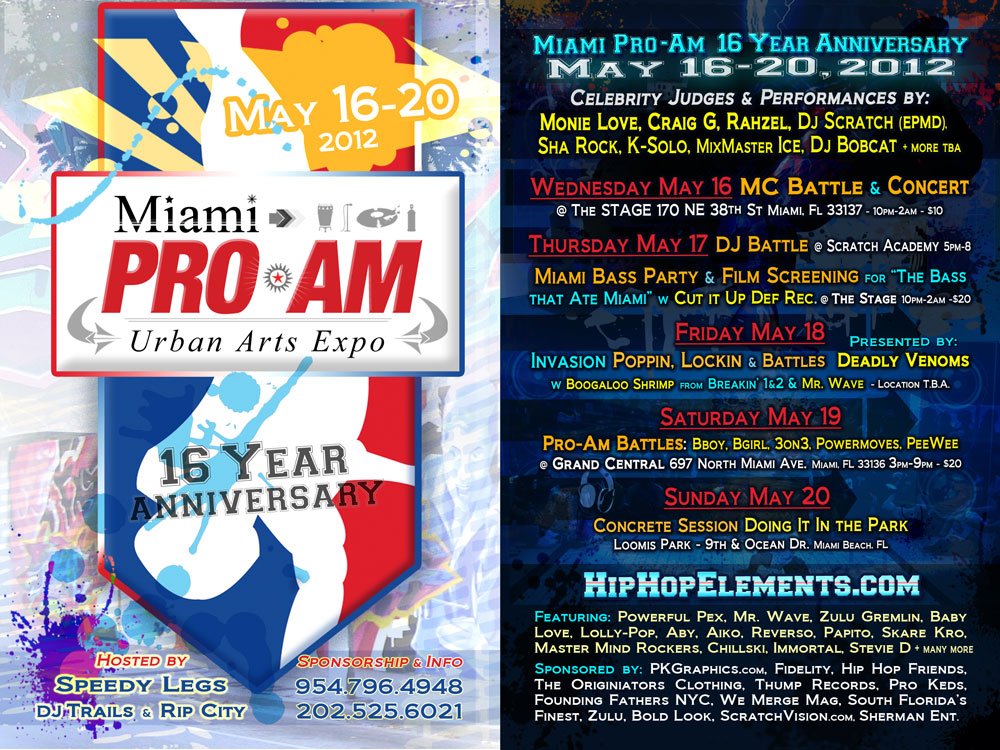 2012 SPONSORS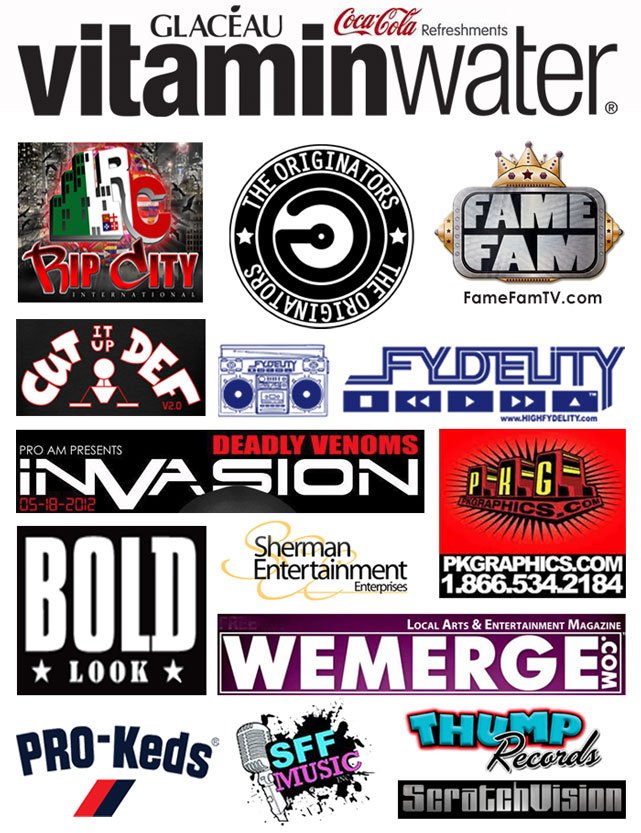 EVENT SCHEDULE:
WEDNESDAY MAY 16
MC Battle & Hip Hop Concert
Featuring legendary emcees and pioneer Djs
@ The STAGE 170 NE 38th St Miami Fl 33137
$10 – 18 & up – 10pm-2am
THURSDAY MAY 17
DJ Battle
@ SCRATCH ACADEMY MIAMI
2 NE 40th St. Suite #304 Miami, FL 33137
Design district – 3rd floor of building
FREE – All Ages – 5pm-8pm
Miami Bass Party
Screening for "Bass that Ate Miami" Film
Presented by DJ Jock D. & Cut It Up Def Records
With DJs: Mr. Mixx, Scratch D of Dynamix II, Teknik Vs Jimi the Genius
Performing Live: Afro Rican, MC Zeus, Kidd Money
& more special guests tba
@ The STAGE 170 NE 38th St Miami Fl 33137
$20 – 21 & up – 10pm-2am
Facebook Event Page for Bass That Ate Miami
FRIDAY MAY 18
INVASION: Poppin & Lockin Battles presented by: DEADLY VENOMS CREW
Featuring special guest: Boogaloo Shrimp from the films Breakin 1 & 2 and Mr. Wave from Beat Street (New York City Breakers)
DJs: Chillski, Cep 3, + Location to be announced…
Facebook Event page for Invasion
SATURDAY MAY 19
Miami Pro-Am Dance Battles
1vs1 Bboy, 1vs1 Bgirl, 3vs3 Crew Battle, Powermoves UpRock & Pee Wee battles
Plus:
Hip Hop Swap meet- Sneakers, Vinyl, Gear, Accessories
PRO-AM Hip Hop Awards Ceremony
Grand Central Night club in Downtown Miami
697 N Miami Ave Miami, FL 33136-4100
$20 – All ages. Free for children under 12 – 3pm-9pm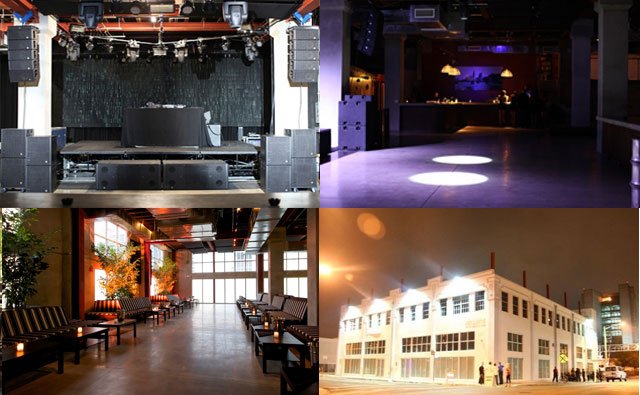 After party to be announced
SUNDAY MAY 20
Concrete Sessions – Doing it in the Park
Lummus Park on 9th & Ocean Dr. – Miami Beach, FL
FREE – All Ages – 1pm-6pm
___________________________________________________________________
PRO-AM MIAMI DJS

: Rip, Trails, Stevie D, Chillski, Immortal, TMS, Juneski, Magic, Papito, Cheeks and many more TBA..
***MORE INFO COMING SOON***
Stay tuned to www.DJTRAILS.com for more information,
www.RIPCITYINTERNATIONAL.COM, & www.FameFamTV.com
Designed by: www.JonathanMFields.com